Where Does Your Water Come From?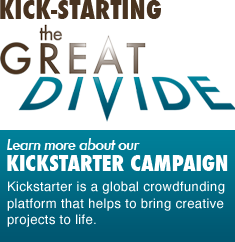 Whether you've already pledged to The Great Divide Kickstarter Campaign or not, thank you for your support.  We appreciate our community of friends and colleagues more than you know.  We have just over $15,000 left to raise in 2 weeks.  Let's do this!
We've received some wonderful attention from Westword and Colorado and Company, among others, regarding our film and the Kickstarter campaign.  There has also been a lot of engagement from our community on Facebook.  Dan Church posted this in response to his Kickstarter donation:
Don't miss this opportunity to become part of The Great Divide film community, get some great swag and tell your friends that you're making a movie.  Be sure to check out all the great rewards (like raft trips and art prints!).
Share this email with your family and friends to spread the word about The Great Divide.  Even better, show your support financially by backing the film on Kickstarter! We truly appreciate all your support and every dollar donated to make this film a reality.
---